Nova Singers Spring Concert
Image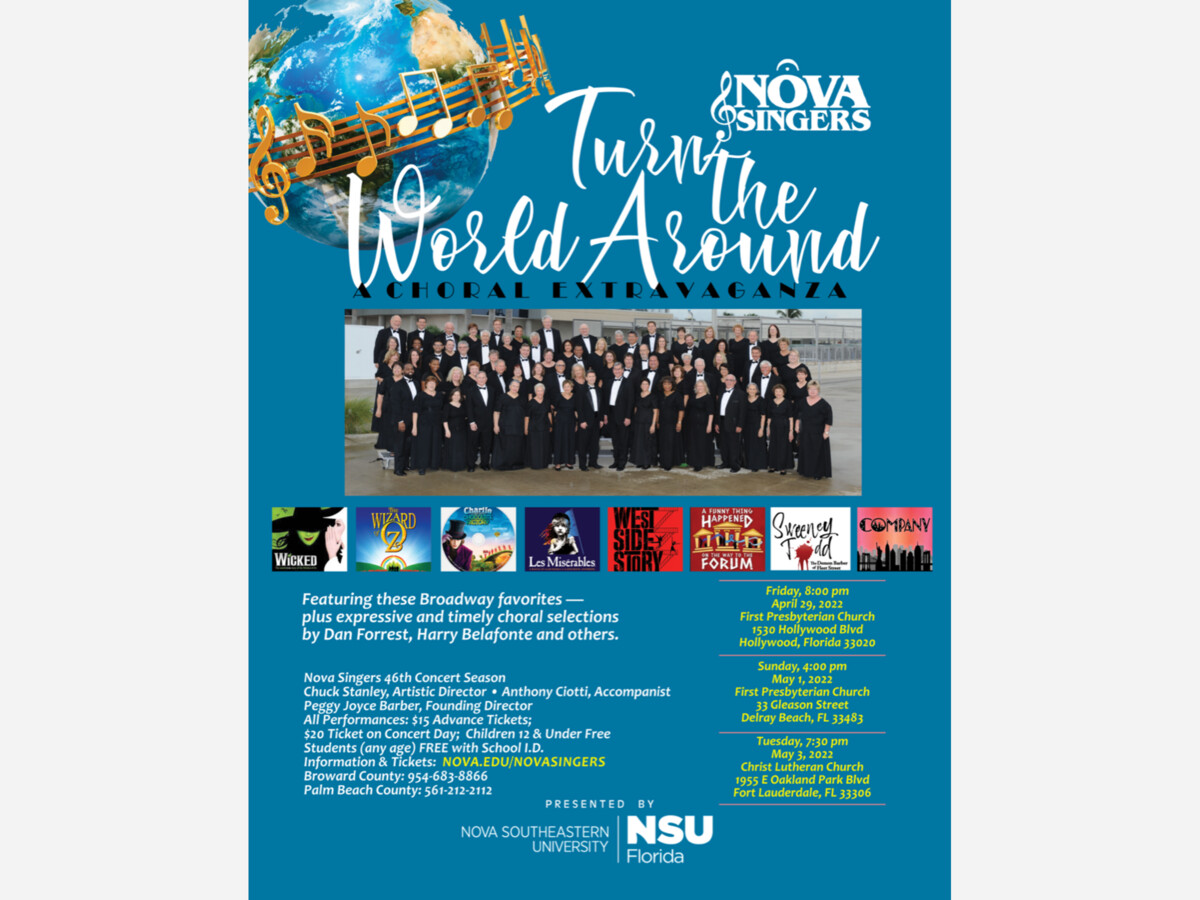 This post expresses the views and opinions of the author(s) and not necessarily that of Delray Radio management or staff.
Press Release
Nova Singers, https://www.nova.edu/novasingers/
Contact info: Teresa Mears, 954-530-8496, tam801@gmail.com
Nova Singers to Present Spring Concerts
Nova Singers, South Florida's premier community chorus, will present three spring concerts titled "Turn The World Around," celebrating the joy of music in tumultuous times. Concerts will include a concert at 4 p.m. May 1 in Delray Beach.
The concert will include Broadway favorites from Les Miserables, West Side Story, Wicked, Company, Charlie & The Chocolate Factory and more, plus timely choral selections by Dan Forrest, Harry Belafonte and others.
The concert will be performed at 8 p.m. Friday, April 29, in Hollywood; 4 p.m. Sunday, May 1, in Delray Beach; and 7:30 p.m. Tuesday, May 3, in Fort Lauderdale.
All Performances are $15 in advance and $20 at the door. Children 12 and under are free, and students (any age) are free with School ID. You can buy tickets online here: https://www.nova.edu/novasingers/attend-a-performance.html
You can also call 954-530-8496 to reserve, and we will leave your tickets at WILL CALL.
Here is the concert schedule:
Friday, April 29, 2022 | 8 pm
First Presbyterian Church
1530 Hollywood Blvd.
Hollywood, FL 33020
Sunday, May 1, 2022 | 4 pm
First Presbyterian Church
33 Gleason Street
Delray Beach, FL 33483
Tuesday, May 3, 2022 | 7:30 pm
Christ Lutheran Church
1955 E. Oakland Park Blvd.
Fort Lauderdale, FL 33306
Nova Singers is South Florida's premier community chorus, made up of singers from Broward, Palm Beach and Miami-Dade counties. Chuck Stanley is the artistic director. The chorus meets September through May and presents three concert programs every year, usually in December, March and May. The chorus, founded in 1976, performs everything from classical masterworks to Broadway show tunes to spirituals to jazz standards to modern pop. The chorus travels both nationally and internationally to perform. In 2018, Nova Singers performed Dan Forrest's Jubilate Deo at Carnegie Hall in New York City. Auditions for new singers are held every August, January and March. Email novasingers@nova.edu if you would like to learn more about becoming a Nova singer.
Nova Singers
Fort Lauderdale, FL 33314
United States